Nursery Open Morning. Wednesday 23rd January 2019. 9.30am – 1 1.30am
Rowley Park Primary Academy, Nursery Open Morning.
We would like to invite you to visit our Outstanding Nursery.  We have places available for September 2019, it will fill up fast!
Apply directly via the school office.
Wednesday 23rd January 2019 9:30am and 11:30am.
We look forward to meeting you.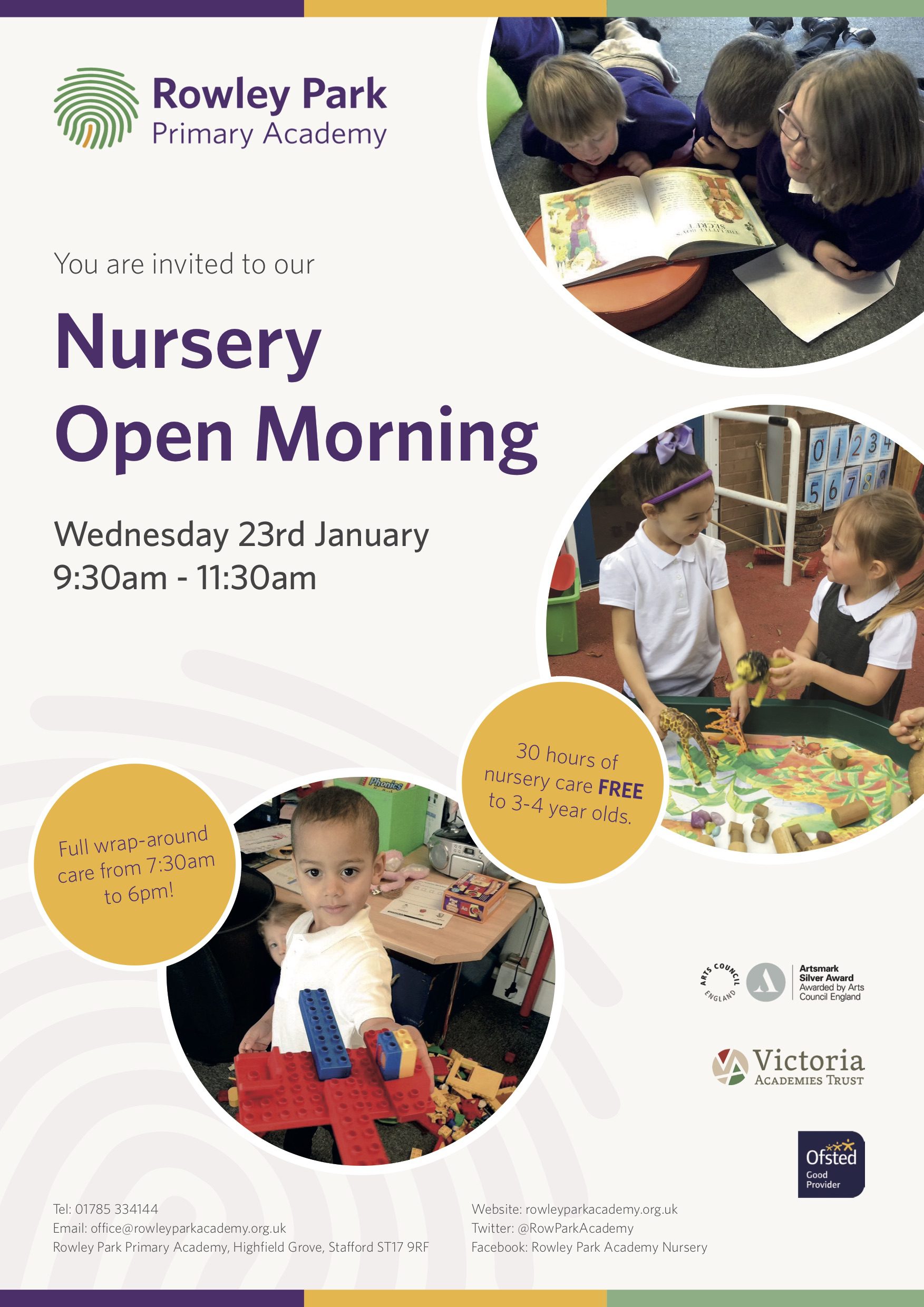 NSPCC Online Safety Workshop – Friday 18th January 2019 at 2:00pm
We are holding a parent workshop at Rowley Park Primary Academy on Friday 18th January 2019 at 2:00pm.
This session will provide practical help and advice to support children with all aspects of online safety.
It will cover; how to ensure children understand how to stay safe online, offer support with setting appropriate parental controls, advice and information about online games, their risks and age recommendations.  It will provide you with the opportunity to ask questions and find further support about online safety.
Other schools who have arranged these sessions, have had extremely positive feedback from parents attending the workshop.  We feel it's important that parents know facts, risks and gain practical advice to keep children safe online.
We hope you can come along to the workshop on Friday 18th January at 2:00pm.
visit the NSPCC website for more information.
Thank you for your support.
Christmas Performance year 1 to 6. 10:30am
Please pick up your children from school at 12pm unless you have sent in a return slip that confirms you are picking up from the church.
Thank you.
Class Christmas Parties – Wednesday 19th December
To celebrate Christmas all classes will be having a Christmas party on Wednesday 19th December during the afternoon.
If you would like to make a small contribution of party food there will be a list of items on each classroom door for children to select a contribution.  Please bring this in on Wednesday morning.
On the day children are to wear school uniform for the morning, they can bring in some party clothes in a bag to change into for the afternoon.
Thank you for your support.
Christmas Lunch Menu – Friday 14th December
Multicultural Fair and Christmas Fair on Thursday 13th December 2pm -4pm
Non school uniform day – Friday 30th November.
We would appreciate your support and contributions for the Christmas Fair.
Early Years and Reception – small chocolate gift box, bar, novelty chocolate etc
Key stage 1 – donate a book new or old
Ket stage – 2 – bottle of fizzy pop, bubble bath, toiletries, wine etc (anything alcoholic must please be given to the office staff handed in by a parent)
Thank you for all your support!
Monday 26th November: Drop in session for assistance with Reception Class – September 2019. Application forms.
We are holding a drop in session for parents applying for Reception Class places September 2019 on;
Monday 26th November between 9-9.30am.
Please come along if you have any questions or need help with the application form.
Diary Dates: Thursday 13th December – Big Cultural Adventure Festival
Thursday 13th December – Big Cultural Adventure Festival
Friday 14th December – Homework due date
Friday 14th December – Christmas Jumper Day
Friday 14th December – Zone Assembly at 9am
Wednesday 19th December – Class Christmas Party Afternoon
Thursday 20th December – Christmas Performance at Rising Brook Church: time tbc
Thursday 20th December – Break up – 12:00pm